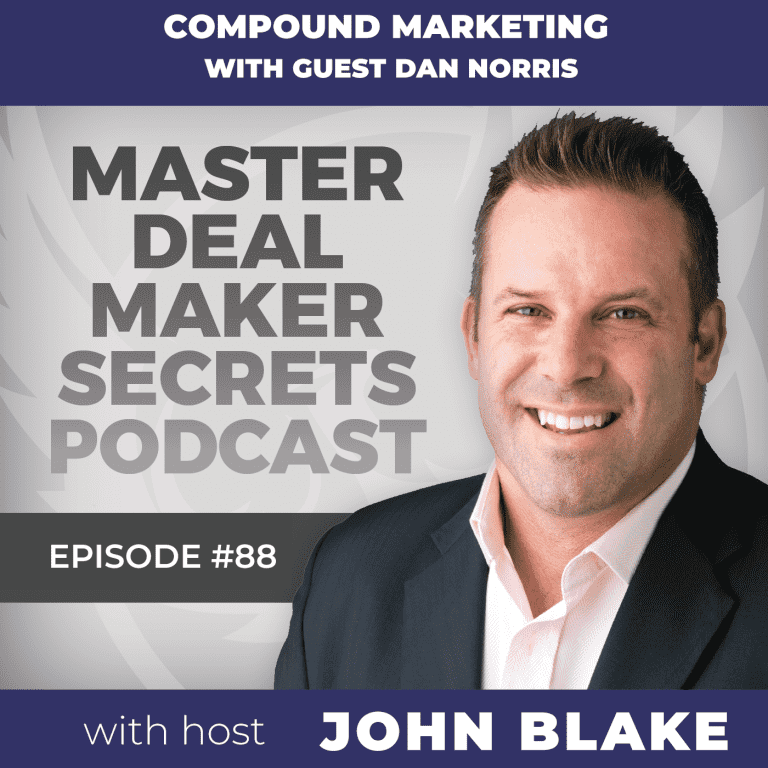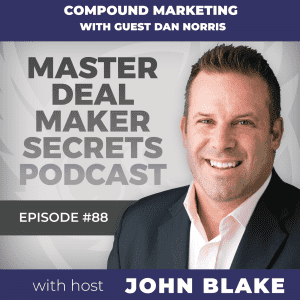 Visit http://JohnBlakeAudio.com to Learn How to DOUBLE Your Enquiry-to-Sale Conversion with The Lead Flow You Already Have.
This week we have an amazing guest with us, his name is Dan Norris. He is a serial entrepreneur, award-winning content maker, international speaker, and author of six books, including a new one, Compound Marketing which we're going to be talking about today.
I wanted to have him on the show so he could talk with us about this topic in particular, but first, let me tell you a bit about his background.
After failing at entrepreneurship for seven years, he founded wpcurve.com, a worldwide team of WordPress developers, providing unlimited small fixes and support 24/7 for a low monthly fee. It became profitable in 23 days, and some years later it was sold to GoDaddy.
With over 65,000 copies sold, Dan's books have been translated into 13 languages and inspired thousands of people around the world to launch their businesses. Dan currently works full time as co-founder and CEO of Australia's fastest-growing craft beer breweries, Black Hops Brewing.
Dan is now in his 15th year as an entrepreneur and over those years his ideas around what an entrepreneur is, and how to build a business, have changed a lot.
His University lessons in Marketing weren't really of good use, but even as a business owner for many years, he found himself in the recurring habit of looking for someone to give him the answer. Seeking permission.
It didn't work, but what did work was spending years piecing together a new way of marketing through trial, error and some chance encounters with generous people.
I'm super stoked to have him on the podcast, and we're definitely going to be talking about the brewery, but mostly about the new book because Compound Marking is the way Dan has built his businesses.
If you don't know what it is, or even if you do, I´m sure that Dan's thoughts on this matter will help you a lot.
He has worked this way for several years and he has found that businesses can work with a far below average spend on marketing and advertising. While most businesses spend 7-10% of their revenue on marketing, there are plenty of modern great businesses out there who spend just 0-1% and they do great.
How can that be done? Well, what can be better than learning how from someone who has done it himself?
If you want to implement this way of doing things too it will give you a pretty decent advantage.
So, if you want to know how Compound Marketing works and what is in store for you if you choose to make use of it, I really encourage you to listen to this interview.
To DOUBLE your lead-to-sale CONVERSION with the leads you already have, go to http://JohnBlakeAudio.com for his exclusive, free, no-fluff, audio training and companion PDF guide.
Inside you'll get word-for-word email follow-up templates, phone scripts, and more that you can put to use today.