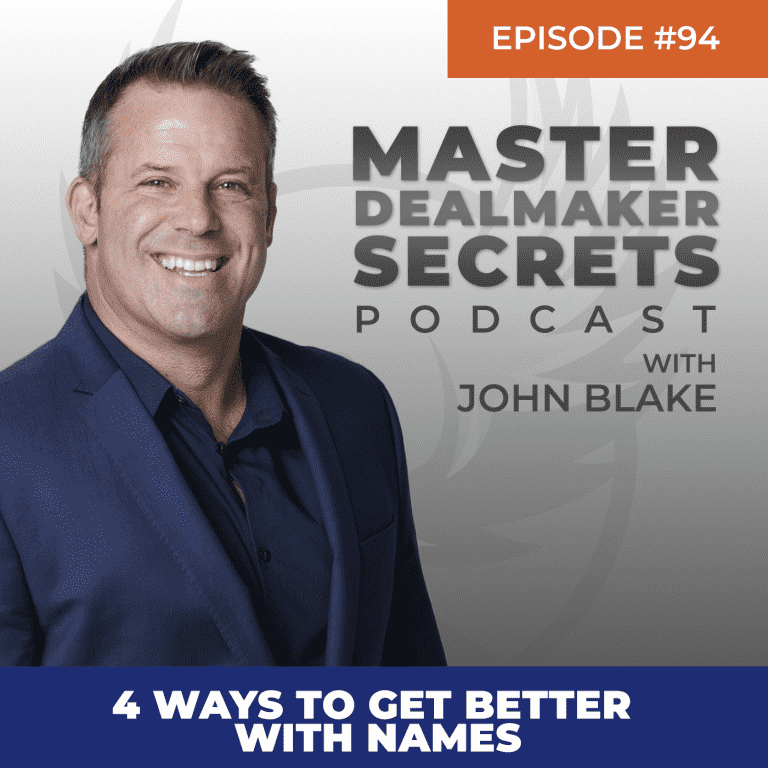 Visit http://JohnBlakeAudio.com to Learn How to DOUBLE Your Enquiry-to-Sale Conversion with The Lead Flow You Already Have.
Today, I've got what I believe is going to be an incredibly useful episode for you, it is on how to remember people's names.  
Forgetting a person's name is something that we've all encountered at some point in our lives, either professionally or personally and it can not only be embarrassing, but it can also cost you business or relationships. 
If this resonates with you believe me you are not alone, I've been guilty of this and I know how embarrassing it is to be in front of someone and forgetting their name, more so if they notice. 
So, how can you avoid having to ask for their name or having them point out your omission?  
Firstly, if you are used to this happening to you it is essential that you don´t tell yourself you are bad with names.  
There are some other things you can say that recognize your deficit but don't let the issue sit there. If you find yourself saying things like "I'm not good with names, but I´m good with faces" I really suggest you stop. 
When you do this, you are affirming to yourself that you can't deal with them, you are disqualifying yourself from getting better at it. How can you expect not to be embarrassed when someone notices you've forgotten his or her name if you haven't even given yourself the chance to work on this ability? 
It is better to say "I am working on getting better with names" than stating you can't remember them. Once you can go beyond this point there are strategies you can bring into your daily conversations and routines that will help you memorize a person's name so you never forget it. 
So, if you are interested in stopping forgetfulness from getting in the way of your business relationships, I really encourage you to listen to this episode, I know that it is something that I wish I'd been exposed to a lot earlier in my professional career so, I believe these strategies will really help you. 
To DOUBLE your lead-to-sale CONVERSION with the leads you already have, go to http://JohnBlakeAudio.com for his exclusive, free, no-fluff, audio training and companion PDF guide.
Inside you'll get word-for-word email follow-up templates, phone scripts, and more that you can put to use today.