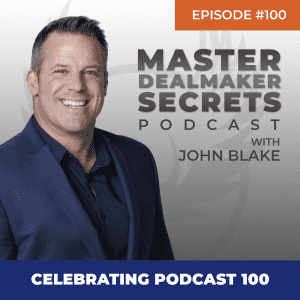 Visit http://JohnBlakeAudio.com to Learn How to DOUBLE Your Enquiry-to-Sale Conversion with The Lead Flow You Already Have.
Welcome to what is a very special episode because we are celebrating the 100th installment of The Master Dealmaker Secrets Podcast. I want to thank each of you for listening and tuning in every week; it is very much appreciated to have such an incredible audience.  
Firstly, I want to seize the opportunity and go over the 10 most listened to episodes of Master Dealmaker Secrets.   
Of course, I'm going to give you a little bit about each episode so that you know what to expect. There are some truly valuable things there that really come in handy more than once. 
Be sure to listen in to know what these 10 episodes are. 
What I also want to do is make a really, really valuable offer. I know that there are a lot of people out there that offer a Strategy Session, right?  What in many cases is nothing but a sales pitch in disguise. What I want to offer is a process that I put together, called a Revenue Unlock Session. 
This will be a way that you can achieve 100% clarity on exactly what's happening in your sales process. If you're not converting more than about 20% or 30% believe me, there are massive untapped opportunities for you, and we can look and hone in with laser precision on exactly what it is that needs to change in your sales process to lift that up to 40% 50%. In some cases, we can even get it up to 60%, 70%, and 80%. 
This is incredibly valuable, that's why I want to limit it to 20 people. So, what you need to do is go to JohnBlakesCall.com, answer a couple of quick questions, then you will go to my calendar where you can book a time for us to go through this process, and I'll send you a Zoom link for our session together.  
I've also got two other unpublished resources that I want to make available to you so, listen to this episode to know how to get a hold of those as well. 
I've got more guests coming up, the sales landscape is changing, and there's a stack more content that I have got ready to cover over the rest of 2021. Thank you again for listening and enjoy this episode. 
To DOUBLE your lead-to-sale CONVERSION with the leads you already have, go to http://JohnBlakeAudio.com for his exclusive, free, no-fluff, audio training and companion PDF guide.
Inside you'll get word-for-word email follow-up templates, phone scripts, and more that you can put to use today.