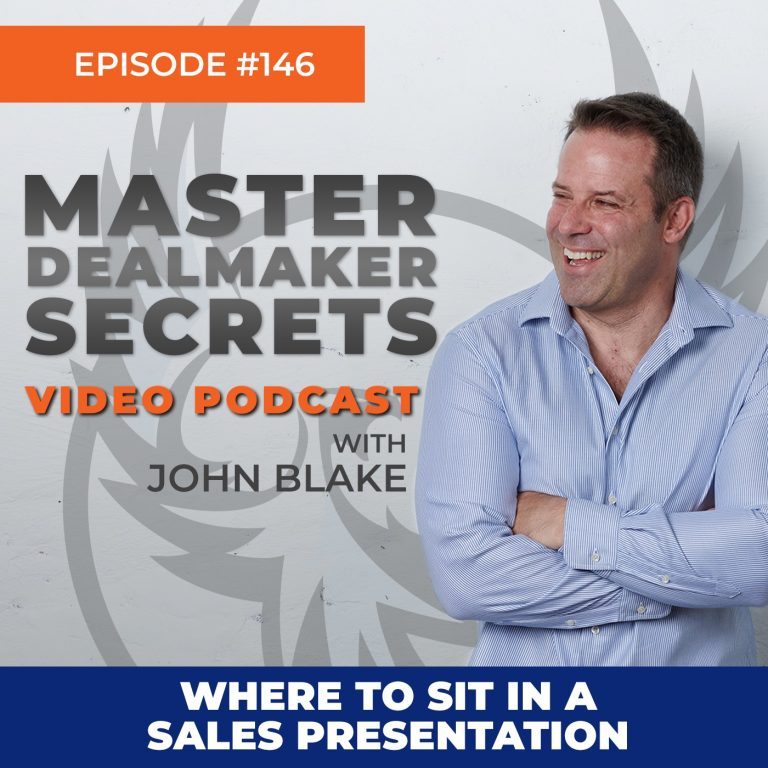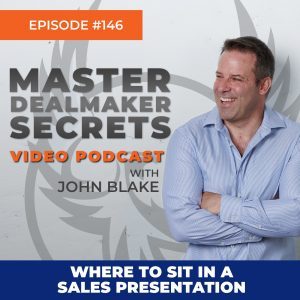 Visit http://JohnBlakeAudio.com to Learn How to DOUBLE Your Enquiry-to-Sale Conversion with The Lead Flow You Already Have.
In Episode 146, I'm going to cover something that I haven't yet because it is a bit of a subtle strategy. It is both simple and powerful and one you probably haven't heard of.
Have you ever considered how you should position yourself physically according to your prospect?
Whether you are in a one-to-one sales meeting, or you're presenting to a group of people it's important that you set yourself up with every advantage – and where you position yourself can give you that edge that psychologically gets your prospect to experience you the way you want them to.
So, here's the scenario, you are doing a presentation in front of a group of people, you're meeting somebody for the first time, or you are meeting somebody to have an actual sales conversation. As a rule of thumb, keep your client on the right of you. The reason that you do that is because what it does is that it engages the left-hand side of your brain.
The reason is it allows you to think and process what it is that you do in an analytical way, right in a logical, analytical way.
So if you are meeting somebody for the first time you shaking someone's hand, you want to be on the right side of them.
If you are sitting down having a sales conversation with them, you want to be to the right of them. If you're doing a sales presentation, you want to position yourself from the audience's perspective on the right-hand side of the room. Because that allows the people in the audience to experience what you're doing, and what you're saying in a logical way.
It's an optimal way to arrange yourself from a physical perspective when you are dealing with either a one-on-one conversation or a group of people.
Take a listen to get more of the details and possibly even close more sales.
To DOUBLE your lead-to-sale CONVERSION with the leads you already have, go to http://JohnBlakeAudio.com for his exclusive, free, no-fluff, audio training and companion PDF guide. Inside you'll get word-for-word email follow-up templates, phone scripts, and more that you can put to use today.