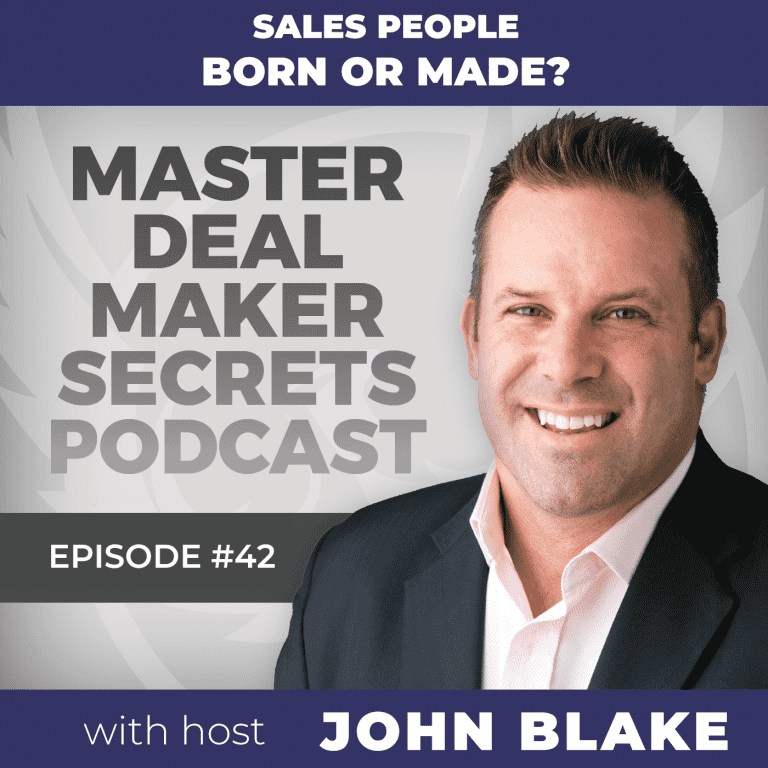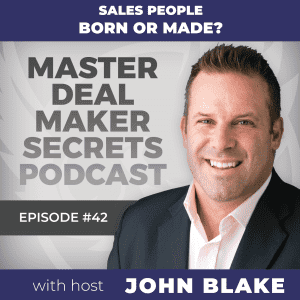 Visit http://JohnBlakeAudio.com to Learn How to DOUBLE Your Enquiry-to-Sale Conversion with The Lead Flow You Already Have.
The age-old question: are salespeople made or born?
From my experience, there is a definite answer—some people are born with an innate talent for excellent sales.
Often, natural-born salespeople are questioned about their process. How are they so successful? Can it be explained? For someone wanting to increase their sales (and don't think they're a born salesperson), your first step is to be willing to break out of your comfort zone.
If you aren't willing to improve, then you're starting out on the wrong foot. No one can teach the obstinate. However, if you begin with a positive mindset, even those without a predisposition can be great at sales.
Even I don't technically have the personality for it. When I took a psychometric test, I was classified as an introvert. That, paired with other qualities, means I'm not predisposed to be good at sales, but that's just on paper.
This is exactly why I set up my business. When I first started in sales, I didn't have any help nor a mentor. These are things everyone deserves to be successful, and I want to be the mentor I wish I had at the beginning.
Over the years, I've excelled at sales because I studied, practiced, and taught. The best thing about teaching others is that it gives you a better grasp of the subject. Through student-teacher collaboration, sales techniques can be refined and improved.
Honestly, I'm just a person that believes in the process. Through a genuine hunger for mastery, I've collected a series of practices, teachings, and mentorships from the best in the industry. Essentially, this is the reason I've found success in sales—even carving a living out of it.
So, can anyone become a world-class, top 5% salesperson?
Let me give you an example. A man, the top salesperson for his coffee company, contacted me recently.
In his mobile coffee franchise, its success brought a system, and through it came scripts. Because of the stagnation, he chose to leave it, and now he sells advertising in hotel lobbies.
So, there are interactive screens in these lobbies that persuade hotel guests to plan their trips. They can easily find local events, etc. to visit. For anyone taking a trip, these lobby screens are an attractive asset for choosing a hotel to stay in.
And this man oversees selling hotels with these interactive screens.
However, he was in over his head and had no idea where to start. Without the familiarity of a system, he felt overwhelmed.
This is the problem most people have; they feel lost when encountering an unfamiliar area. It's necessary though. How else can you find the right system where you fit if you don't try new things? It's easier if you organize.
My question to you is: what is it that you're doing to systemize your process?
Also, how well are you paying attention to your front-end engagement?  I'd say that there are 6-9 leverage points to increase sales.
Let's start with the stage-to-stage conversion. I'll break it down into simple ideas:
What is your conversation rate from inquiry to the first appointment?
What happens in your initial conversion?
What happens in your initial chat conversation using social media?
What does your initial email chat look like?
How are you enticing people to respond by email?
Your process needs to take all of these into account. The rate of people converting from the first appointment to second (or even straight to a sale) is what determines your actual strategy.
Your plan must consider what works and what doesn't. Carefully look at your conversion rate through each stage, from initial contact to quote.
This is what separates a good salesperson from an excellent salesperson: proper planning. If you don't have the innate talent for sales, this is exactly how you get better. In my opinion, the person that plans well, using data and actionable goals, is the most successful.
To DOUBLE your lead-to-sale CONVERSION with the leads you already have, go to http://JohnBlakeAudio.com for his exclusive, free, no-fluff, audio training and companion PDF guide.
Inside you'll get word-for-word email followup templates, phone scripts, and more that you can put to use today.