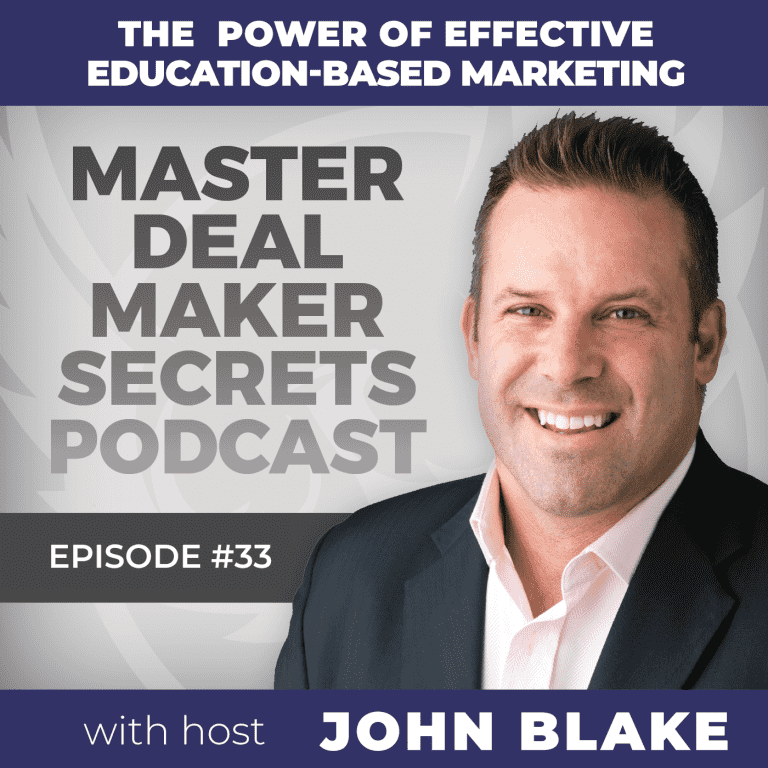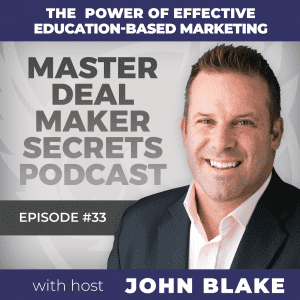 Visit http://JohnBlakeAudio.com to Learn How to DOUBLE Your Enquiry-to-Sale Conversion with The Lead Flow You Already Have.
Education-based marketing is the most effective way to create separation between you and your competitors in a world where everybody is promising inverted commerce, good service, and a great product that becomes null and void.
I became aware of education-based marketing through the late great Chet Holmes. He wrote a book called The Ultimate Sales Machine. In fact, I quoted him in my book, "High Stakes Selling," as saying: "The one who gives the market the most and best information will always slaughter the one who just wants to sell products or services."
I would qualify that by saying, if you just give the market lots of information about your product, then you're not even going to put a scratch on your competition. It is educating the market so that they can become better-informed consumers.
A beautiful example of this is a guy who I just met at the weekend. He has a business where he goes into retirement villages and he refurbishes the units.
There's a relatively higher turnover for units in retirement villages because when people pass away, their family doesn't need that particular unit anymore. They want to resell it to someone else.
This guy is doing these refurbishments, and he has a lot of competition. And what he said is that the competition going there and I under Kadeem on price and they have dodgy workmanship.
His question to me was,
"How do I get in front of these facility managers?"
He said that the three things that they need to keep in mind and that they need to do is to 1) make sure their refurbishment projects are completed on time, 2) they're within budget, and 3) they're completed without any defects – so that they don't have tradespeople traipsing in and out of the place for six months after the unit has been supposedly refurbished.
I said to him, "How do you think you'll go with that?"
He said that'll work for sure.
It's about looking at the world through the lens of the person that you are targeting and putting together a piece of education that has nothing to do with your product, but positions you as an expert in the process.
This is a powerful exercise to do. My thinking for you is, what could you do to educate that particular target on how to avoid those things happening? And if you can work out how to do that, then you're going to get a much bigger percentage of the attention for that market for any product that we talked about.
You're definitely going to get the attention of the 3% that are buying now. You'll get the attention of the 7% that are in the market, but you also get a bigger percentage of that 30% that are open to it, and even the 30% that are not thinking about it.
To DOUBLE your lead-to-sale CONVERSION with the leads you already have, go to http://JohnBlakeAudio.com for his exclusive, free, no-fluff, audio training and companion PDF guide.
Inside you'll get word-for-word email followup templates, phone scripts, and more that you can put to use today.