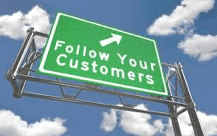 One of the things I always get asked for by coaching clients
is "how often should I follow up?"

This is a great question. In fact, your approach
for this part of your sales process needs to
be a well thought out deliberately scripted and
strategised process.

Here's a couple of key tips to keep in mind…

For a start…

Never use the words "follow up" in your language
either in print or verbally.

why?

Because what type of person follows up ?

That's right a sales person. And even though
that's essentially what we are, that's not what we want
to be stereotyped as as.

We need to manage our perception with our potential
clients to ensure we are perceived as business equals.

Instead of "following up" simply say "checking in"
or "coming back to you"

For example "Hi (prospects name) I'm checking in with you
to see where you are at with your decision making process"

This will mean you don't come across sounding like a
sales person and you'll maintain your positioning
as a business equal.

There's also some key points to be considered in terms
of how frequently you contact the "uncommitted prospect"

We recommend you only contact your uncommitted prospect by phone
(without a return call from them) once per week.

Why?

Because really you should…

– Have enough prospects you are either talking to or in the
process of closing that you haven't really got time to contact
them more than once per week

– That it subordinates your position as a business equal if
you "hound" or "jones" them

– That you should instead use a combination of other media
like email, text and direct mail to continue the contact
whilst calling only once per week

In terms of your overall sales system your process for
staying connected to a prospect without blowing your
positioning as an example could be

week 1 – call and email
week 2 – call and text
week 3 – call and direct mail with useful information for your prospect (education based
marketing)
week 4 call and email

Naturally there are templates and scripts you can apply to each
contact which are the subject of another email but this should give
you some good juice to make some changes that will work for you.