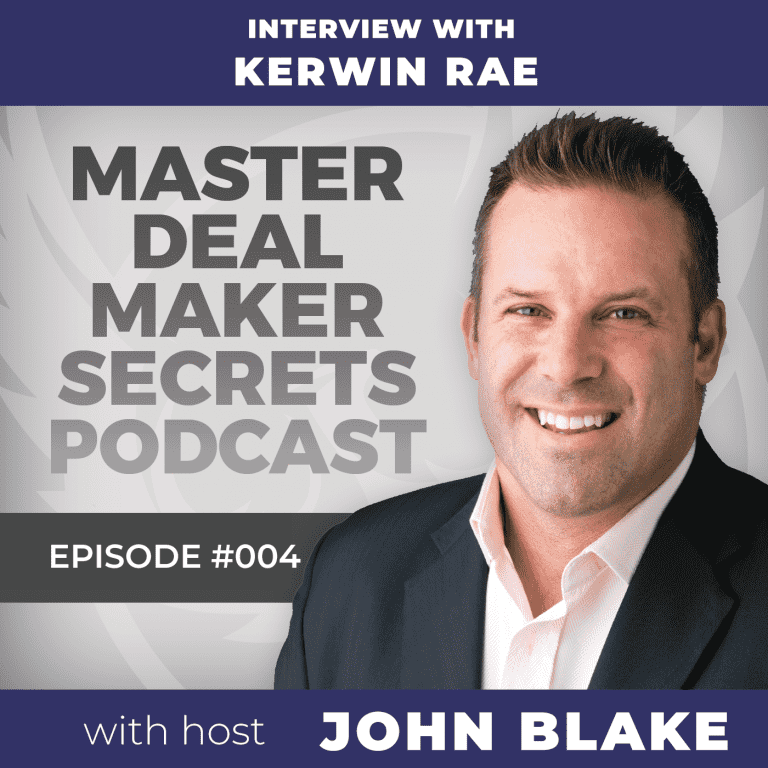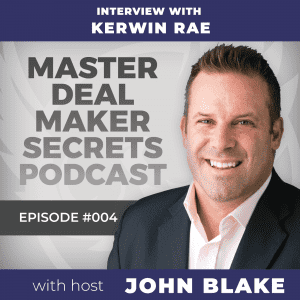 Visit http://JohnBlakeAudio.com to Learn How to DOUBLE Your Enquiry-to-Sale Conversion with The Lead Flow You Already Have.
Today, we are going to be speaking with Kerwin Rae, a businessman, an entrepreneur, and an investor, generating in excess of $250 million.
We are going to be deconstructing one of the biggest deals in his career, the process, the results and the lessons learned, with the hope that you too can take away something valuable from his story.
The biggest deal of Kerwin's career so far, he describes as not the biggest, but the most pivotal has been his Joint Venture partnership with business coach network, "Better Business Institute". When he joined the business, it was doing about $400k a year, which he was able to turn to $8 million in just 18 months.
Along the way, were about 350 transactions, and expansion to five countries, teaching people how to become business coaches or consultants.
Kerwin mentions some of the largest blockages along the way were to do with customer and client support and having to take on a lot of risk at the beginning of the venture. He had to deal with the marketing, sales and travel costs, essentially taking on all the risk in the business, and initiate the support systems that were required to help more people become successful.
Additionally, the seminar business attracts a lot of egos, and this can amount to passive-aggressive conflicts here and there. What mind-set should you adopt to deal with these blockages? Figure out what you're passionate about, and the reason for it. It's one thing to be driven to make money, but if there's no reason for it, you'll get yourself into trouble.
After chasing money for years and years, Kerwin came to the conclusion that he was really searching for peace, not money after all. If you can't truly figure out what you're passionate about, if you can't truly understand yourself, you are going to be taken advantage of.
Another tip is being able to see all the angles of potential possibility in that deal. When someone says no, they're not saying it to the offer, they're not saying it to the deal, they're saying it to your presentation of the deal, the language, the structure.
A dealmaker is someone who can assess the situation, ask questions, see tiny cues and pick-up on little throwaway lines that enable you to instantly repackage the deal. You have to be giving them what they want, not what you want, this is where a lot of people fall down in deal-making.
The thing that brought Kerwin to success was the team. Three big personalities working well together, with complementary skills. In this way, they were able to position the deals in the best way possible. Rather than selling, they had applications, applications that led to an interview.
Now, in the interview, the clients were expecting to be sold, but they weren't. Instead, they would ask them, why should we take you on as a client?
Some term this reverse selling or negative selling, and although it is used more commonly nowadays, this was almost unheard of when they brought it in. We've talked about this before, when you end up forcing a client to do business with you, there is no doubt they will become a nightmare client. They will be dissatisfied with your product or service, and they will leave bad reviews polluting your business.
Finally, Kerwin mentions how important it is to follow your intuition when signing on to a deal. Every time you don't follow your intuition in a deal, you end up in a position that you don't want to be in, and can't get out of. Once you say you're going to do something, whether it be with or against your intuition, you must follow through on that deal.
Learn to train your intuition and follow it, and you will no longer find yourselves in this situation. If you say no to a deal because it doesn't intuitively feel right, it is a very relieving feeling a few months down the track when you've found yourself a new deal, and everything starts going downhill for the original one.
To DOUBLE your lead-to-sale CONVERSION with the leads you already have, go to http://JohnBlakeAudio.com for his exclusive, free, no-fluff, audio training and companion PDF guide.
Inside you'll get word-for-word email followup templates, phone scripts, and more that you can put to use today.