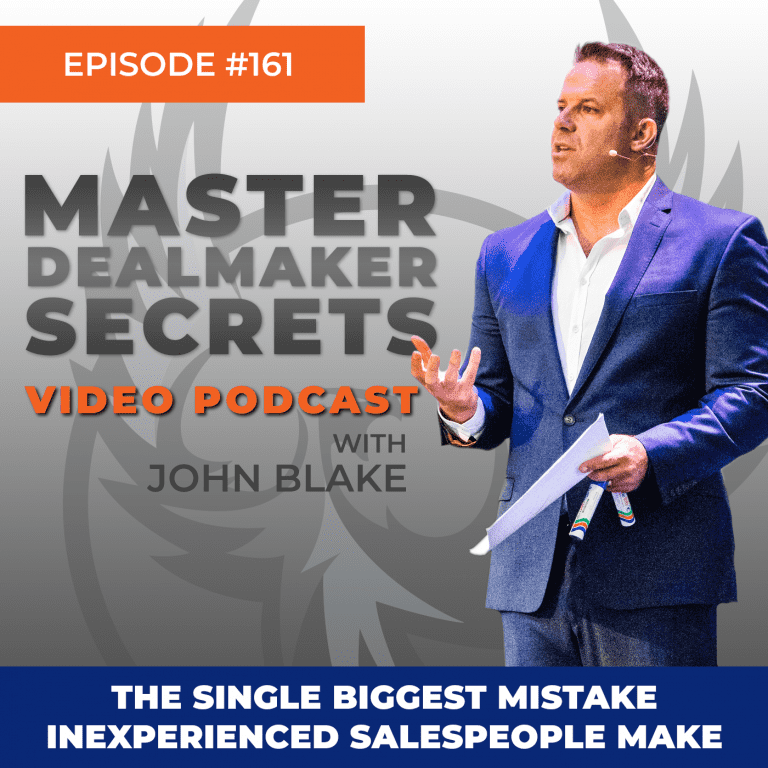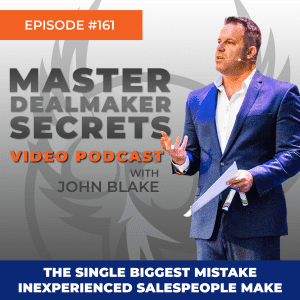 Visit http://JohnBlakeAudio.com to Learn How to DOUBLE Your Enquiry-to-Sale Conversion with The Lead Flow You Already Have.
In episode 161, we are going to be talking about the single biggest mistake that inexperienced salespeople make and effectively how to avoid it.  
Simply put, the single biggest mistake that inexperienced salespeople make is that they try to put prospective clients into arbitrary-type situations.  
There can be a couple of reasons for that to happen, but mostly, salespeople do that because they are ill-informed not because they have ill intentions.  
I worked with a client once, and he wanted me to help his company write more business on the spot. So, I gave them a process that I developed myself because I had my own fashion agency for a long time and I had about 130 different clients that would come in and buy a range of apparel from me two or three times a year.  
Long story short, I developed a system that would improve the likelihood of them buying on the spot because if they didn't get the order on the spot, they had to wait for it at least a week and there was a direct correlation to the diminishing of the order that you would get for every week that would go past.  
So, we went through it, I taught them this particular system, and about three days later, the phone rang and this guy said, "I tried what you did, and it didn't work". When I asked him what happened he said, "Well, I had this buyer come in, and I went through the process that you taught me. And he didn't buy, he just said, stop doing the hard sell! stop doing the hard sell!".  
What happened there was that the client he was talking about was an existing client, and he was known for taking between three to four days to get his order. My client had unnecessarily pushed his client towards closing a deal while ignoring the context of the situation.   
He could've just waited a couple of days for the order to be placed instead of making his already regular client feel uncomfortable and under pressure so, you have to understand the context and adjust how you approach every single situation.  
This is a clear example of how inexperience and wrong information can have terrible consequences. Maybe not at first. If you push clients into arbitrary-type situations on an ongoing basis, what happens is that there actually aren't that many short-term consequences. In the short term, you actually might even make more sales if you're trying to force people to buy.  
The thing is, over time, especially when you live in a country like Australia, or you live in a town like Melbourne, Sydney, or Perth, what happens is that word gets around and people find out because they talk.  
So, people talk, and suddenly, nobody wants to do business with you anymore. That is a bad thing, you definitely do not want that to happen.  
Listen to this episode to learn how to fix this often-ignored issue, I am sure you will be able to perfect the way you approach your clients so that you can improve the likelihood of closing the deal while assuring you're not making your clients feel like they want to run away. 
To DOUBLE your lead-to-sale CONVERSION with the leads you already have, go to http://JohnBlakeAudio.com for his exclusive, free, no-fluff, audio training and companion PDF guide.
Inside you'll get word-for-word email follow-up templates, phone scripts, and more that you can put to use today.