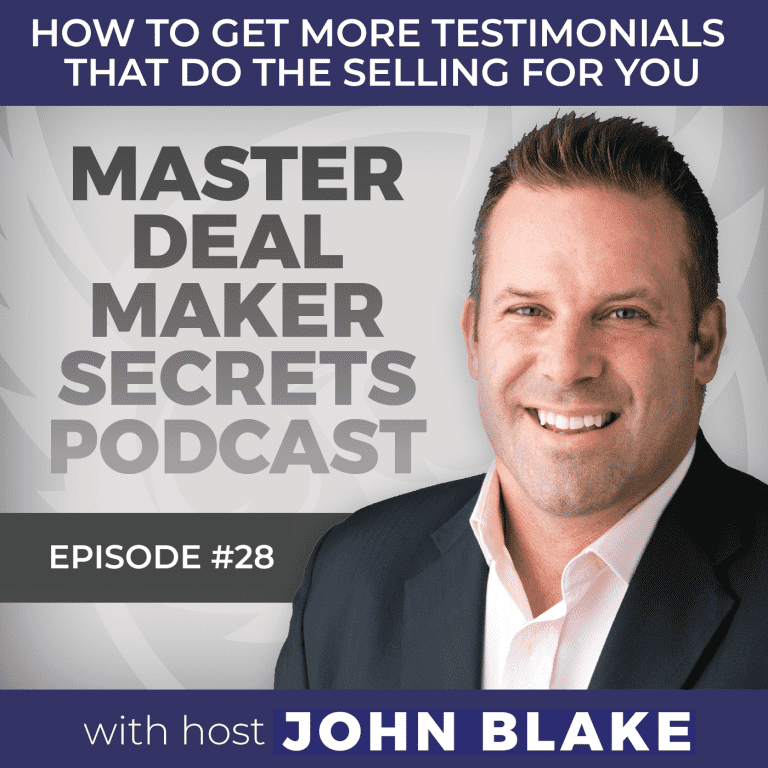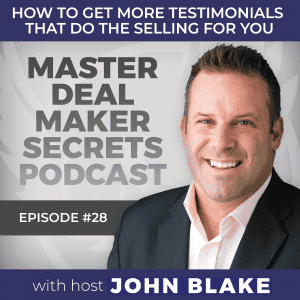 Visit http://JohnBlakeAudio.com to Learn How to DOUBLE Your Enquiry-to-Sale Conversion with The Lead Flow You Already Have.
Testimonials, like third-party proof, is massive. There's a statistic that says people are six or seven times more likely to accept or believe something that someone else says about you than something that you can say about yourself.
But what we find out is that people are either reluctant to ask for testimonials; or if they do ask someone for a testimonial, sometimes they don't know what to write. They don't get around to it or they forget. And we need a way to make it easy for them.
So, this particular approach has worked really well for me, for a number of years. I got fantastic testimonials using this particular approach. Here's the thing: you are going to be talking to happy clients and you are going to have those conversations.
What you need to do is tune your ear for when you hear a client says something that is complementary or glowing about your product or service.
Listen to the full podcast here:
Example conversation would be:
You: How's everything going? Have you been happy with the process so far?

Client: Yeah, it's been great. We've had this result. I can't believe how easy the process has been. You guys have been so easy to work with.
You: I'm really happy that you've been excited and that our services work well for you. That's so great to hear. Would it be possible for me to use your comments to promote what it is that we do?

Client: Yes, no problem at all.

You: I'll summarize the conversation that we just had in an email and I'll send it to you. All you need to do is read it, make any changes that you'd like to make sure that it's consistent with the conversation that we just had, and then if you could email it back to me with your 'okay', that would be fantastic.
What you should do is write the testimonial because you can summarize what they said, and send it through. You've just made it much easier for people.

The best testimonials are the ones where there is a sort of an index, where someone's being meaningful and specific. Look out for testimonials where they're saying that their sales doubled, or that they've saved X amount of money, or that they're saving X number of hours per week. It's important to include testimonials where there's a recognizable before-and-after type shift.
It's important to note: you should tune your ears when you hear your clients saying something glowing about your product or service. Ask them permission first if you can include what they said, to promote what you do.
If they say yes (which almost all would possibly do so), send them the summary of your conversation so they could approve or make necessary changes. And there you go, you've got a great testimonial.
To DOUBLE your lead-to-sale CONVERSION with the leads you already have, go to http://JohnBlakeAudio.com for his exclusive, free, no-fluff, audio training and companion PDF guide.
Inside you'll get word-for-word email followup templates, phone scripts, and more that you can put to use today.