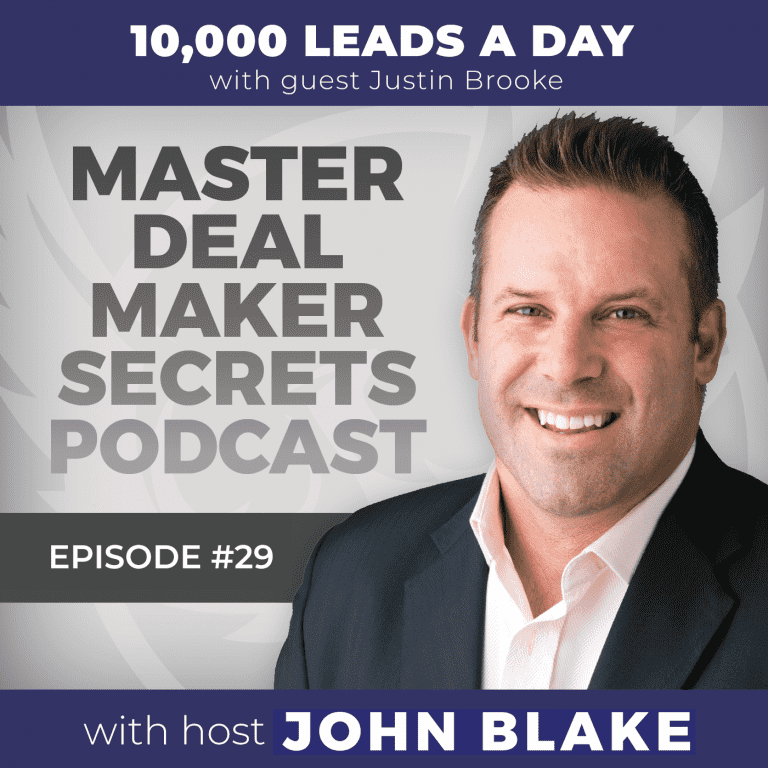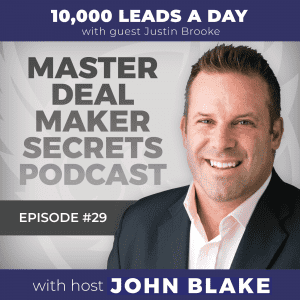 Visit http://JohnBlakeAudio.com to Learn How to DOUBLE Your Enquiry-to-Sale Conversion with The Lead Flow You Already Have.
Now, for the 29thepisode, we talked with Justin Brooke, a marketing and lead generation wizard. In this episode, we discussed how to generate 10,000 leads a day on Google.
I was first exposed to Justin back in 2005, and I've been following him. He's the founder of adskills.com – which is one of the most progressive platforms in terms of learning how to use any ad platform. Justin and his team are training the next generation of media buyers and they're connecting them with great clients or jobs. More importantly, all of his courses are backed by millions of dollars in real-life campaign testing and they update them all the time.
So, I asked Justin what it takes to generate 10,000 leads a day on Google. He told the story that before, he felt he already had hit a ceiling around two or three thousand leads a day. But then he saw a business partner of his who shared a screenshot on Facebook one day – with 7,000 leads a day. And that's where he wondered what the real ceiling is. Justin's current record is 17,233 a day.
Justin's success trick is… polls. Quizzes are a lead generation type of thing. But the difference with using polls is the latter is usually just A or B, Yes or No, This or That; whereas a quiz has multiple choices. He said to choose an emotional topic for the poll. The reason this works is because human beings want to feel heard. They want to feel like they've given their opinion on an issue.
Listen to the full episode here:
Moreover, Justin noted that in creating a poll, the page has to be simple because if you're going to do any kind of volume, you have to have fast-loading pages. You don't need them reading a bunch of things. You want them to just be clicking yes or no.
Justin also noted that he likes to use no opt-in form on the page. People call it a pop-up, but the technical definition is it's an HTML lightbox with an opt-in form. And that is a crucial part of it. He set an example that he blurred a graph or chart, and people would need to enter their email address to see the results of the poll and to "see what others have voted". Humans cannot resist this thing. There are some free and cheap tools that one can use like typeform.com, which allows you to do what's called conditional logic.
One important thing mentioned is: this is all done with Google ads, specifically Google display ads. They have a smart display campaign, which allows you to put in your creative skill, and you need to just put in a bunch of images and headlines, and they're going to do all the split testing for you.
Justin also discussed that the question he loves to ask that really trips people up is "What's your process when the ads are not profitable?" When he was running his agency, he only charged people 15% of ad spend. He said he wanted the bulk of the money going to the ads. Then he's going to have a much easier time showing an ROI to this customer, which means they're going to put more money into the ads and it's going to be a cycle. That's how he was able to get his clients.
Justin noted that you need to go for high-profits stuff. Creating polls is great. He said that you have to have a strong follow-up sequence behind there – no good sales pages and stuff like that. It's definitely a volume play.
Justin mentioned lastly about their media buying masters course. He said it's probably the best course to start with because it teaches you the bigger picture. It teaches you how to fix failing campaigns. It teaches you the difference between behavioral targeting and contextual targets. It gives you the mindset and allows you to think like a pro.

To DOUBLE your lead-to-sale CONVERSION with the leads you already have, go to http://JohnBlakeAudio.com for my exclusive, free, no-fluff, audio training and companion PDF guide.
Inside you'll get word-for-word email followup templates, phone scripts, and more that you can put to use today.