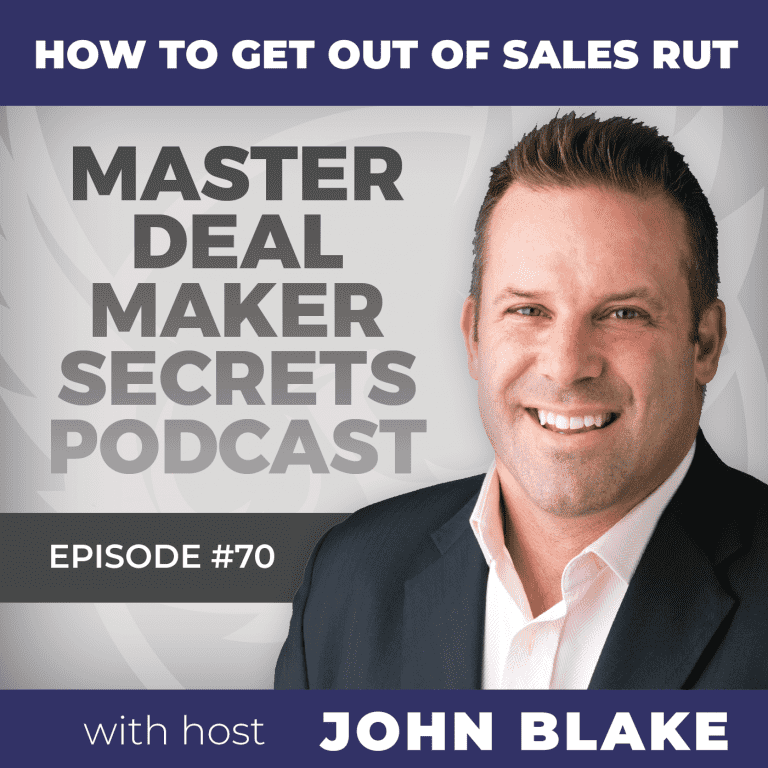 Visit http://JohnBlakeAudio.com to Learn How to DOUBLE Your Enquiry-to-Sale Conversion with The Lead Flow You Already Have.
How great would it be if we could always hit our goals and get consistent results regardless of the circumstances? I know it sounds great, but reality has always had other ideas.
As we've discussed before, the business world has taught us that there are always ups and downs. It is pretty difficult for everybody to maintain the same levels of profitability and success without suffering from the eventualities that occur in the market.
That is why today I want to talk to you about how you can get out of a sales rut.
If you have been in this business for a while, then this is not a strange scenario. I've been in that situation a number of times over the last thirty years, and I've learned that when people get stuck and they don't know what to do is mostly because they tend to get too in their heads, too outcome-based in terms of wanting to get a sale.
We all know that numbers are important, but we also know there is much more to sales than that.
Being so focused on getting things done can make you lose the connection with the clients that you have. Don't get me wrong, solving problems and giving value to your clients is awesome for you and also for them, but it can make you shift away from the human aspect of what we do. It can become too mechanical or clinical, and trust me, that is no good at the end of the day.
This mind shift, that happens often without us knowing is actually detected by potential clients. Instead of attracting them to making business, we suddenly become repellent. Let's be honest, who would like to buy from people that are so obstinate about the way they make sales?
As we've discussed previously, the way your clients see you is essential for your success. So, I thought that it would be great if we talked about this in today's episode because if you find yourself in a situation where your sales plummet to the ground it can be really hard to get out if you are so centered on the results you are not getting.
Remember that there is much more to sales than that. With that in mind, we are going to talk about what you should do if you find yourself in conditions like this. These strategies are very effective, and they are also really simple.
So, if you are interested in learning precisely what to do in case of a sales slump, I really encourage you to listen to this episode.
To DOUBLE your lead-to-sale CONVERSION with the leads you already have, go to http://JohnBlakeAudio.com for his exclusive, free, no-fluff, audio training and companion PDF guide.
Inside you'll get word-for-word email followup templates, phone scripts, and more that you can put to use today.